Inercia Digital is a Spanish VET centre (Vocational Training for Employment) focused on fostering digital and entrepreneurial skills through specialised training and innovation in educational and digital programmes.  Our mission is to drive training and innovation in digital skills across Europe, for educational institutions as well as professionals, for the labour market and for all European citizens in general.  Our vision is to be a Centre of Vocational Education and Training (VET) of Excellence at an international level through the continuous improvement of training and innovation in digital and entrepreneurial skills, boosting teaching and training methods of excellence, establishing ongoing cooperation and collaboration, in line with policies of regional development, employment, innovation and education.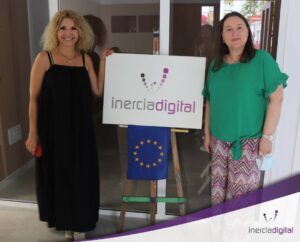 We are experts on  ICT components (eplatforms, apps, robotics and diverse technological solutions), designing innovative pedagogical resources and implementing dissemination and communication campaigns at European and international level. Our specialised knowledge, qualified personnel and ample experience have led us to implement more than 100 innovation projects in the field of education and training. If your project needs or includes an element of eLearning, digital skills training or digital entrepreneurship, we are your partner.  
We could be your digital partner for the Small-Scale Partnerships (KA210). Small-scale Partnerships are designed to widen access to the programme to small-scale actors and individuals who are hard to reach in the fields of school education, adult education, vocational education and training, youth and sport. This action will also support flexible formats – mixing activities with transnational and national character although with a European dimension – allowing organisations to have more means to reach out to people with fewer opportunities. Small-scale Partnerships can also contribute to the creation and development of transnational networks and to fostering synergies with, and between, local, regional, national and international policies. 
Main objectives of this call are: 
To increase quality in the work and practices

of the organisations and institutions involved, opening up to new actors not naturally included within one sector.

To build the capacity of organisations to work transnationally

and across sectors.

To address common needs and priorities

in the fields of education, training, youth and sport.

To enable transformation and change

(at individual, organisational or sectoral level), leading to improvements, in proportion to the context of each organisation.
Are you interested in cooperation partnerships or want to discuss ways of collaboration? Do not hesitate to contact us at innovation@inerciadigital.com in order to establish successful ways of cooperation together!
Inercia Digital busca participar en la convocatoria Small-Scale Partnerships (KA210).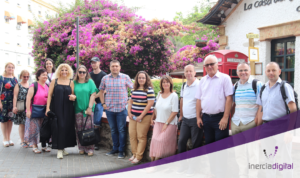 Inercia Digital es un centro español de FP (Formación Profesional para el Empleo) centrado en el fomento de las competencias digitales y emprendedoras a través de la formación especializada y la innovación en programas educativos y digitales. Nuestra misión es impulsar la formación y la innovación en competencias digitales en toda Europa, tanto para instituciones educativas como para profesionales, para el mercado laboral y para todos los ciudadanos europeos en general. Nuestra visión es ser un Centro de Educación y Formación Profesional (FP) de Excelencia a nivel internacional a través de la mejora continua de la formación y la innovación en competencias digitales y emprendedoras, impulsando métodos de enseñanza y formación de excelencia, estableciendo cooperación y colaboración permanente, en línea con las políticas de desarrollo regional, empleo, innovación y educación. 
Somos expertos en componentes TIC (e-platforms, apps, robótica y diversas soluciones tecnológicas), diseñando recursos pedagógicos innovadores e implementando  campañas de difusión y comunicación a nivel europeo e internacional. Nuestro conocimiento especializado, personal cualificado y amplia experiencia nos han llevado a implementar más de 100 proyectos de innovación en el ámbito de la educación y la formación. Si su proyecto necesita o incluye un elemento de eLearning, formación en competencias digitales o emprendimiento digital, somos su socio.
Podemos ser su socio digital para las Asociaciones a Pequeña Escala (KA210), diseñadas para ampliar el acceso al programa a los actores a pequeña escala y a las personas a las que es difícil llegar en los ámbitos de la educación escolar, la educación de adultos, la educación y formación profesional, la juventud y el deporte.  Esta acción también apoyará los formatos flexibles -mezclando actividades de carácter transnacional y nacional aunque con una dimensión europea- permitiendo a las organizaciones disponer de más medios para llegar a las personas con menos oportunidades. Las asociaciones a pequeña escala también pueden contribuir a la creación y el desarrollo de redes transnacionales y a fomentar las sinergias con las políticas locales, regionales, nacionales e internacionales y entre las mismas. 
Los principales objetivos de esta convocatoria son: 
Aumentar la calidad del trabajo y de las prácticas

de las organizaciones e instituciones implicadas, abriéndose a nuevos actores no incluidos naturalmente en un sector.

Desarrollar la capacidad de las organizaciones

para trabajar de forma transnacional y entre sectores.

Abordar necesidades y prioridades comunes

en los ámbitos de la educación, la formación, la juventud y el deporte.

Permitir la transformación y el cambio

(a nivel individual, organizativo o sectorial), lo que conlleva mejoras, en proporción al contexto de cada organización.
¿Está usted interesado en asociaciones de cooperación o quiere discutir formas de colaboración? No dude en ponerse en contacto con nosotros en innovation@inerciadigital.com para establecer juntos formas de cooperación efectivas.
The following two tabs change content below.
Marta MM
Research Coordinator at Inercia Digital S.L. Graduada en Estudios Ingleses. Me encanta viajar y la música.