Inercia Digital attempts to enter in a consortium of the following  Erasmus+ calls, Virtual Exchanges with the Western Balkans and Virtual Exchanges with other specific regions in the world. The specific objectives of these calls are: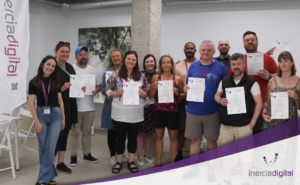 Encouraging intercultural dialogue with third countries

not associated to the programme and increasing tolerance through online people-to-people interactions, building on digital, youth-friendly technologies.

Promoting various types of virtual exchanges

as a complement to Erasmus+ physical mobility, allowing more young people to benefit from intercultural and international experience.

Enhancing critical thinking and media literacy

, particularly in the use of internet and social media, such as to counter discrimination indoctrination, polarization and violent radicalisation.

Fostering the digital and soft skills

development of students, young people and youth workers, including the practice of foreign languages and teamwork, notably to enhance employability.

Promoting citizenship and the common values of freedom, tolerance

and non-discrimination through education.

Strengthening the youth dimension

in the relations of the EU with third countries.
The aim of this publication is to give you the reasons to select to Inercia Digital as digital partners: 
Inercia Digital is an innovative Andalusian

organisation specialising in training and innovation in digital skills

at an international level. We are a VET centre (Vocational Training for Employment) officially accredited by our regional government and

our main area of expertise

is fostering digital and entrepreneurial skills.

Inercia Digital has extensive experience participating in innovative European educational projects and was appointed a new

member of the "Digital Skills and Jobs Coalition

" of the European Commission in 2017. We're also the proud recipients of the

Certificate of Compliance AENOR

EA0043 as a Young Innovative Enterprise in 2015.

Inercia Digital offers

training and innovation in digital and entrepreneurial skills at international level

, but we are also committed to fostering innovative advances in education through active participation in European projects and educational initiatives.

Inercia Digital has an ample catalogue of courses

, promoting online and in-person training in digital skills to promote education, employment and make citizens active participants in today's digital society.

Inercia Digital continuously strives to be an active participant in the development of international innovative projects

to promote digital skills. Inercia Digital has participated in more than

100 European projects

in digital innovation.
For all these reasons, we think that Inercia Digital would be the ideal partner for these types of proposals as we promotes and works in all the possible outputs of these calls:
Online facilitated discussions

between students of Higher Education institutions based in different countries, as part of higher education degrees.

Training for university professors/staff

willing to develop a virtual exchange project with colleagues from other countries.

Interactive open online courses

including traditional course materials such as filmed lectures, readings, and problem sets (like the well-known MOOCs, Massive Open Online Courses, but putting an emphasis on interactive user forums in small groups to support community interactions among students, professors, teaching assistants, young people and youth workers).
If you are developing a project that needs or includes an element of eLearning, digital skills training or digital entrepreneurship, we are your partner. Please, do not hesitate to contact us to share ideas through innovation@inerciadigital.com and see how we can contribute to a successful partnership. 
Inercia Digital, tu socio digital para la convocatoria Erasmus+ de Intercambios Virtuales. 
Inercia Digital pretende entrar en consorcio en las siguientes convocatorias de Erasmus+, Intercambios Virtuales con los Balcanes Occidentales e Intercambios Virtuales con otras regiones específicas del mundo. Los objetivos específicos de estas convocatorias son
Fomentar el diálogo intercultural con terceros países no asociados al programa

y aumentar la tolerancia a través de las interacciones interpersonales en línea, aprovechando las tecnologías digitales y de fácil acceso para los jóvenes.

Promover diversos tipos de intercambios virtuales

como complemento a la movilidad física de Erasmus+, permitiendo que más jóvenes se beneficien de la experiencia intercultural e internacional.

Potenciar el pensamiento crítico y la alfabetización mediática

, especialmente en el uso de Internet y los medios sociales, para contrarrestar el adoctrinamiento por discriminación, la polarización y la radicalización violenta.

Fomentar el desarrollo de las competencias digitales

y blandas de los estudiantes, jóvenes y trabajadores en el ámbito de la juventud, incluida la práctica de lenguas extranjeras y el trabajo en equipo, especialmente para mejorar la empleabilidad.

Promover la ciudadanía y los valores comunes

de libertad, tolerancia y no discriminación a través de la educación.

Reforzar la dimensión de la juventud

en las relaciones de la UE con terceros países.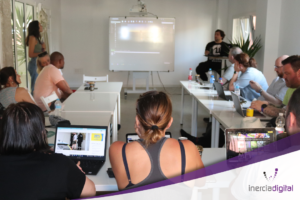 El objetivo de esta publicación se basa enmarcarlas razones para seleccionar a Inercia Digital como socio digital: 
Inercia Digital es una organización innovadora andaluza

especializada en la formación e innovación en competencias digitales

a nivel internacional. Somos un centro de FP (Formación Profesional para el Empleo) acreditado oficialmente por nuestro gobierno regional y

nuestra principal área de especialización

es el

fomento de las competencias digitales y de emprendimiento

.

Inercia Digital tiene una a

mplia experiencia participando en proyectos educativos europeos innovadores

y fue nombrado nuevo

miembro de la «Coalición de Competencias y Empleos Digitales»

de la Comisión Europea en 2017. También somos los orgullosos receptores del

Certificado de Conformidad AENOR

EA0043 como Joven Empresa Innovadora en 2015.

Inercia Digital ofrece

formación e innovación en habilidades digitales y de emprendimiento a nivel internacional

, pero también estamos comprometidos con el fomento de los avances innovadores en la educación

a través de la participación activa

en proyectos e iniciativas educativas europeas.

Inercia Digital cuenta con un amplio catálogo de cursos

, promoviendo la formación online y presencial en competencias digitales para fomentar la educación, el empleo y hacer a los ciudadanos partícipes activos de la sociedad digital actual.

Inercia Digital se esfuerza continuamente por ser un participante activo en el desarrollo de proyectos innovadores

internacionales para promover las habilidades digitales, habiendo participado en

más de 100 proyectos europeos

de innovación digital.
Por todo ello, Inercia Digital sería el socio ideal para este tipo de propuestas ya que promovemos y trabajamos en todas las posibles salidas de estas convocatorias:
Debates online

entre estudiantes de instituciones de Educación Superior con sede en diferentes países, como parte de las titulaciones superiores.

Formación para profesores/personal universitario

dispuesto a desarrollar un proyecto de intercambio virtual con socios de otros países.

Cursos interactivos abiertos en línea

que incluyan materiales de curso tradicionales como conferencias grabadas, lecturas y conjuntos de problemas (como los conocidos MOOC y Massive Open Online Courses, pero poniendo énfasis en los foros interactivos para apoyar las interacciones de la comunidad s).
Si está desarrollando un proyecto que necesite o incluya un elemento de eLearning, formación en habilidades digitales o emprendimiento digital, somos su socio. No dude en ponerse en contacto con nosotros para compartir ideas a través de innovation@inerciadigital.com y ver cómo podemos contribuir a una asociación exitosa.
The following two tabs change content below.
Marta MM
Research Coordinator at Inercia Digital S.L. Graduada en Estudios Ingleses. Me encanta viajar y la música.