At the beginning of July 2022, the Innovation Manager of Inercia Digital, Marta Mármol Muñoz, met with Valeria Buscemi, Project Manager of CEIPES, in Palermo, Italy to discuss joint lines of work that can be carried out in the future between both companies that involve a mutual benefit for both Spain and Italy in favour of the most disadvantaged.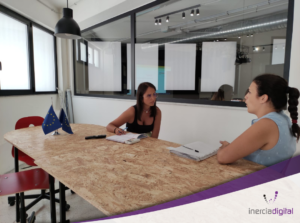 Inercia Digital is an innovative Spanish VET centre (Vocational Training for Employment) that specialises in ICT components and promotes digital and entrepreneurial skills (eplatforms, apps, robotics and other technological solutions). More than 100 innovative projects in the sphere of education and ICT training have been implemented thanks to our specialised expertise, competent staff, and extensive experience.
Our goal is to promote digital skills training and innovation across Europe for professionals, educational institutions, the employment market, and all Europeans as a whole. For that reason, this meeting is an opportunity to spread our knowledge among the disadvantaged people from Italy. In this way, Inercia Digital and CEIPES will work together on an Erasmus proposal in order to end up with the main needs and the lack of knowledge on ICT.
If you are also interested in this specific topic, we are working on the following Erasmus+ calls: 
Cooperation Partnerships:

They aim to support the development, transfer and/or implementation of innovative practices as well as the implementation of joint initiatives promoting cooperation, peer learning and exchanges of experience at European level. 

Small-scale Partnerships

: They aim at reaching out to grassroots organisations, less experienced organisations and newcomers to the Programme, reducing entry barriers to the programme for organisations with smaller organisational capacity. 
Are you interested in cooperation partnerships or want to discuss ways of collaboration which bring mutual benefits for both organizations? Do not hesitate to contact us innovation@inerciadigital.com and organize your B2B meeting in order to establish successful ways of cooperation together!
 Inercia Digital y CEIPES trabajarán juntas para conseguir la inclusión de los más desfavorecidos a través de las TIC.
A principios de julio de 2022, la Directora de Innovación de Inercia Digital, Marta Mármol Muñoz, se reunió con Valeria Buscemi, Directora de Proyectos de CEIPES, en Palermo, Italia, para tratar las líneas de trabajo conjuntas que se pueden llevar a cabo en el futuro entre ambas empresas y que suponen un beneficio mutuo tanto para España como para Italia en favor de los más desfavorecidos.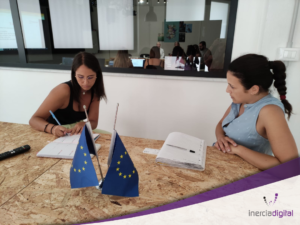 Inercia Digital es un innovador centro español de FP (Formación Profesional para el Empleo) especializado en componentes TIC y que promueve las competencias digitales y de emprendimiento (eplatforms, apps, robótica y otras soluciones tecnológicas). Más de 100 proyectos innovadores en el ámbito de la educación y la formación en TIC se han llevado a cabo gracias a nuestros conocimientos especializados, personal competente y amplia experiencia.
Nuestro objetivo es promover la formación en competencias digitales y la innovación en toda Europa para los profesionales, las instituciones educativas, el mercado laboral y todos los europeos en su conjunto. Por ello, este encuentro es una oportunidad para difundir nuestros conocimientos entre las personas desfavorecidas de Italia. De este modo, Inercia Digital y CEIPES trabajarán juntos en una propuesta Erasmus para acabar con las principales necesidades y la falta de conocimiento sobre las TIC.
Si tú también estás interesado en este tema concreto, estamos trabajando en las siguientes convocatorias Erasmus+: 
Asociaciones de Cooperación

: Tienen como objetivo apoyar el desarrollo, la transferencia y/o la aplicación de prácticas innovadoras, así como la puesta en marcha de iniciativas conjuntas que promuevan la cooperación, el aprendizaje entre iguales y el intercambio de experiencias a nivel europeo. 

Asociaciones a pequeña escala

: Tienen como objetivo llegar a las organizaciones de base, a las organizaciones con menos experiencia y a las recién llegadas al Programa, reduciendo las barreras de entrada al programa para las organizaciones con menor capacidad organizativa. 
¿Está interesado en las asociaciones de cooperación o quiere discutir formas de colaboración que aporten beneficios mutuos a ambas organizaciones? No dude en ponerse en contacto con nosotros innovation@inerciadigital.com y organice su reunión B2B para establecer juntos formas de cooperación exitosas.
The following two tabs change content below.
Marta MM
Research Coordinator at Inercia Digital S.L. Graduada en Estudios Ingleses. Me encanta viajar y la música.