Inercia Digital is a VET centre officially accredited by our regional government and our main area of work is the training of digital and entrepreneurial skills. Its mission is to drive training and innovation in digital skills across Europe, for educational institutions as well as professionals, for the labour market and for all European citizens in general. Inercia Digital's vision is to to be a Centre of Vocational Education and Training (VET) of Excellence at an international level through the continuous improvement of training and innovation in digital and entrepreneurial skills, boosting teaching and training methods of excellence, establishing ongoing cooperation and collaboration, in line with policies of regional development, employment, innovation and education.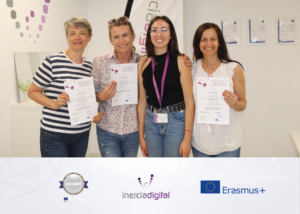 In the development of international educational projects to boost innovation and promote digital skills, Inercia Digital has participated in more than 100 European educational projects that promote digital innovation (Erasmus+ Programme, Citizens Programme, Equality, Rights and Values (CERV), Lifelong Learning Programme, Tempus and CYTED). 
In order to increase the transnational significance of Inercia Digital, and to facilitate our involvement in future proposals at European and international level, the figure of the CEE (European Strategic Collaborator) is created. Main objectives are: to create collaborative relationships around European innovation proposals, specifically, for The new Erasmus Programme 2021-2027, in order to strengthen a long-term relationship between member countries (Spain and your country) and fight against the educational needs of our countries, exchanging good practices, methodologies, tools and offering inclusive and environmental learning. The main tasks of the CEE are: 
To

intervene and strive to promote the role of the partner

in the proposals to be carried out in each country.

To attempt to

introduce us to the European proposals

that we both elaborate and apply together in the following calls of the programme «The new Erasmus Programme 2021-2027», whenever possible.

To

help in the search of organisations

that both of us may need for the creation of project consortia.

To

disseminate the results

and/or activities of each organisation. 
In fact, last Friday we celebrated one year of working together with our CEE in Slovakia, CPM-Centrum prevencie mládeže, with whom we have collaborated jointly in the year 2021 on Erasmus+ programme proposals in KA1 and KA2 calls. We cheers for another year of successful proposals!
If you would like to establish a collaboration with Inercia Digital in the following calls, please request a B2B meeting through our mail innovation@inerciadigital.com.
Inercia Digital busca colaboradores estratégicos Europeos.
Inercia Digital es un centro de FP oficialmente acreditado por nuestro gobierno regional y nuestra principal área de trabajo es la formación de las competencias digitales y de emprendimiento.  Nuestra misión es impulsar la formación y la innovación en competencias digitales en toda Europa, tanto para las instituciones educativas como para los profesionales, para el mercado laboral y para todos los ciudadanos europeos en general. La visión de Inercia Digital es ser un Centro de Educación y Formación Profesional (EFP) de Excelencia a nivel internacional a través de la mejora continua de la formación e innovación en competencias digitales y empresariales, impulsando métodos de enseñanza y formación de excelencia, estableciendo una cooperación y colaboración permanente, en línea con las políticas de desarrollo regional, empleo, innovación y educación.
En el desarrollo de proyectos educativos internacionales para impulsar la innovación y promover las competencias digitales, Inercia Digital ha participado en más de 100 proyectos educativos europeos que promueven la innovación digital (Programa Erasmus+, Programa Ciudadanos, Igualdad, Derechos y Valores (CERV), Programa de Aprendizaje Permanente,  Tempus y CYTED). 
Con el objetivo de incrementar la significatividad transnacional de Inercia Digital, y facilitar nuestra implicación en futuras propuestas a nivel europeo e internacional, se crea la figura del CEE (Colaborador Estratégico Europeo). Los objetivos principales son: crear relaciones de colaboración en torno a las propuestas de innovación europeas, en concreto, para el nuevo Programa Erasmus 2021-2027, con el fin de fortalecer una relación a largo plazo entre los países miembros (España y su país) y luchar contra las necesidades educativas de nuestros países, intercambiando buenas prácticas, metodologías, herramientas y ofreciendo un aprendizaje inclusivo y medioambiental. Las principales tareas del CEE consiste en: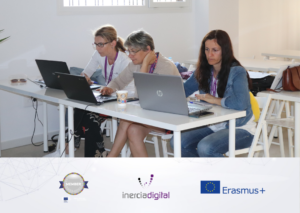 Interceder y esforzarse en promover el papel del socio

en las propuestas que se lleven a cabo en cada país.

Intentar introducirnos en las propuestas europeas

que ambos elaboramos y aplicar juntos en las siguientes convocatorias del programa «El nuevo Programa Erasmus 2021-2027», siempre que sea posible.

Ofrecer ayuda en la búsqueda de organizaciones

que ambos podamos necesitar para la creación de consorcios de proyectos.

Difundir los resultados

y/o actividades de cada organización. 
De hecho, el pasado viernes celebramos un año de trabajo conjunto con nuestro CEE en Eslovaquia, CPM-Centrum prevencie mládeže, con el que hemos colaborado conjuntamente en el año 2021 en las propuestas del programa Erasmus+ en las convocatorias KA1 y KA2. ¡Brindamos por otro año de propuestas exitosas!
The following two tabs change content below.
Marta MM
Research Coordinator at Inercia Digital S.L. Graduada en Estudios Ingleses. Me encanta viajar y la música.