Una correcta aplicación de las redes sociales en el aula ayuda a desarrollar las habilidades más complejas del pensamiento como son la aplicación, el análisis, la síntesis y la evaluación de la información.
Por ello durante la semana del 19 al 13 de junio hemos recibido a 16 profesores y profesoras de New East, Dituria y Hristo Botev en nuestro curso «Aprendiendo y enseñando con las Redes sociales» en nuestro Centro de Formación e Innovación de Inercia Digital en Huelva. Durante esta semana, hemos formado a estos/as profesionales en el manejo efectivo de diferentes herramientas para crear contenido en las redes sociales como es el caso de Genially, Animaker y EdPuzzle. Además, hemos trabajado sobre distintas metodologías innovadoras en el aula para fomentar procesos de comunicación bidireccionales y transversales, por medio de canales diversos tanto específicos del ámbito educativo como horizontales.
¡Y no solo eso! Durante el día de buenas prácticas, nuestros/as participantes visitaron la Lonja de la Innovación, en la que conocieron todas sus instalaciones, así como el Museo de Huelva. Esperamos que los y las asistentes hayan disfrutado de nuestro curso y hayan adquirido todos los conocimientos que se han impartido.  
Desde Inercia Digital damos las gracias a todos los y las participantes por su amabilidad, participación y constante esfuerzo. ¡Ha sido un placer!
¿Te gustaría asistir a uno de nuestros cursos con tu equipo? Escríbenos a training@inerciadigital.com  y te contaremos cómo participar en los proyectos de movilidad Erasmus+ KA122. No olvides seguirnos en nuestras redes sociales para no perderte nada:
Inercia Digital

@inerciadigital.s.l

@InerciaDigital

Inercia Digital

@inerciadigital

Inercia Digital S.L
Learn about Learning and Teaching in Social Media Networks
A correct application of social networks in the classroom helps to develop the most complex thinking skills such as the application, analysis, synthesis and evaluation of information.
For this reason, during the week of June 19 to 13, we have received 16 teachers from New East, Dituria and Hristo Botev in our course «Learning and teaching with social networks» at our Inercia Digital Training and Innovation Center in Huelva. During this week, we have trained these professionals in the effective management of different tools to create content on social networks, such as Genially, Animaker and EdPuzzle. In addition, we have worked on different innovative methodologies in the classroom to promote bidirectional and transversal communication processes, through various channels, both specific to the educational field and horizontal.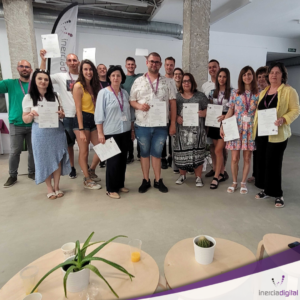 And not only that! During the good practices day, our participants visited the Lonja de la Innovación, where they got to know all its facilities, as well as the Museum of Huelva. We hope that the attendees have enjoyed our course and have acquired all the knowledge that has been imparted.
From Inercia Digital we thank all the participants for their kindness, participation and constant effort. It has been a pleasure!
Would you like to attend one of our courses with your team? Write to us at training@inerciadigital.com and we will tell you how to participate in the Erasmus+ KA122 mobility projects. Don't forget to follow us on our social networks so you don't miss anything:
Inercia Digital

@inerciadigital.s.l

@InerciaDigital

Inercia Digital

@inerciadigital

Inercia Digital S.L
The following two tabs change content below.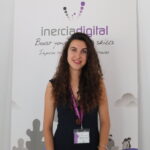 Lidia Benéitez Labrada
Maestra de inglés y actualmente coordinadora de formación en Inercia Digital. English teacher and currently training coordinator at Inercia Digital.