Del 10 al 14 de noviembre, las profesionales de T.C. İstanbul Valiliği Aile ve Sosyal Hizmetler İl Müdürlüğü, han decidido asistir al curso Equipping adults with digital literacy skills impartido por Inercia Digital en  el Centro de formación e innovación en Huelva.   Este curso tiene el principal objetivo de promover la autonomía de los individuos a la hora de acceder, analizar, evaluar, crear y actuar utilizando diferentes formas de comunicación, y establecer entornos seguros para nuestra interacción en línea. 
Estas son competencias y habilidades imprescindibles para todos los ciudadanos activos debido a la digitalización de la gran mayoría de servicios, tanto públicos como privados que se derivan de las nuevas circunstancias ocurridas a nivel social, tecnológico y medioambiental.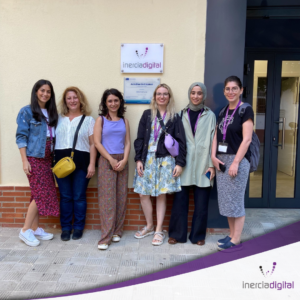 Durante estos 5 días de formación, las participantes han evaluado  y diseñado procesos de comunicación mediática en diferentes entornos y formatos multimedia, han establecido las bases en la conformación de estrategias de comunicación digital, han  empleado motores de búsqueda avanzados y operadores booleanos para realizar búsquedas eficientes de información actualizada y veraz.
Además, han podido desarrollar competencias para su autoprotección y la de su entorno social, comunitario, familiar, profesional y ambiental; profundizando en las estrategias a seguir para promover espacios comunicativos online seguros y bidireccionales. Así, han trabajado en estrategias para combatir el ciberacoso como uno de los problemas actuales más importantes en este sentido.
 Las participantes han aprendido a gestionar la documentación producida por ellas mismas de manera eficiente, promoviendo la generación de espacios interactivos, seguros, confiables y coherentes con los entornos de aplicación.
Ha sido una semana muy productiva, esperamos que nuestras participantes hayan aprendido y sean capaces de difundir estos conocimientos con sus usuarios. 
Si estás interesado en los proyectos Erasmus+, y en disfrutar de experiencias de movilidad de aprendizaje como estas, no dudes en ponerte en contacto con nosotros a través de nuestras redes sociales o escríbenos a training@inerciadigital.com
We keep training adults in digital skills!
From 10 to 14 November, the professionals of T.C. İstanbul Valiliği Aile ve Sosyal Hizmetler İl Müdürlüğü, have decided to attend the course Equipping adults with digital literacy skills given by Inercia Digital at the Centro de formación e innovación in Huelva.   This course has the main objective of promoting the autonomy of individuals to access, analyse, evaluate, create and act using different forms of communication, and to establish safe environments for our online interaction. 
These are essential competences and skills for all active citizens due to the digitalisation of the vast majority of services, both public and private, resulting from the new social, technological and environmental circumstances. 
During these 5 days of training, the participants have evaluated and designed media communication processes in different environments and multimedia formats, they have established the basis for the creation of digital communication strategies, they have used advanced search engines and Boolean operators to carry out efficient searches for updated and accurate information.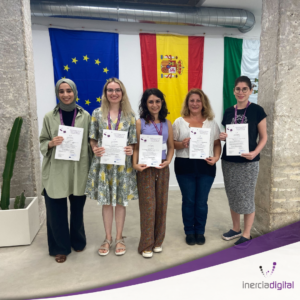 In addition, they have been able to develop competences for their self-protection and that of their social, community, family, professional and environmental surroundings; deepening in the strategies to follow to promote safe and bidirectional online communicative spaces. Thus, they have worked on strategies to combat cyberbullying as one of the most important current problems in this regard.
 The participants have learned how to manage the documentation produced by themselves in an efficient way, promoting the generation of interactive, safe, reliable and coherent spaces with the application environments.
It has been a very productive week, we hope that our participants have learned and are able to disseminate this knowledge to their users. 
If you are interested in Erasmus+ projects, and in enjoying learning mobility experiences like these, do not hesitate to contact us through our social networks or write us to training@inerciadigital.com
The following two tabs change content below.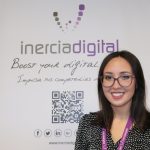 Cristina Romero
Coordinadora de formación en Inercia Digital. Graduada en Administradicón y Dirección de Empresas yTurismo. Training Coordinator at Inercia Digital. Double degree in Business Administration and Management and Tourism.