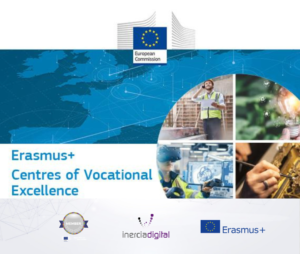 The initiative on Centres of Vocational Excellence (CoVE) supports a bottom-up approach to Vocational Excellence involving a wide range of local stakeholders. It enables VET institutions to rapidly adapt skills provision to evolving economic and social needs, including the digital and green transitions. CoVEs operate in a given local context, being the linchpin of skills ecosystems for innovation, regional development, and social inclusion, while working with CoVEs in other countries through international collaborative networks.
This action provides opportunities for initial training of young people as well as the continuing up-skilling and re-skilling of adults, through flexible and timely offer of training that meets the needs of a dynamic labour market, in the context of the green and digital transitions. This action acts as catalysts for local business innovation, by working closely with companies and in particular SMEs.
Inercia Digital is a Spanish VET centre (Vocational Training for Employment)  focused on fostering digital and entrepreneurial skills through specialised training and innovation in educational and digital programmes. We are experts on  ICT components (eplatforms, apps, robotics and diverse technological solutions), designing innovative pedagogical resources and implementing dissemination and communication campaigns at European and international level.
Our mission is to drive training and innovation in digital skills across Europe, both for educational institutions and professionals, for the labour market and for all European citizens in general. Our vision is to be a Vocational Education and Training (VET) Centre of Excellence at international level through continuous improvement of training and innovation in digital and entrepreneurial skills, promoting teaching and training methods of excellence, establishing permanent cooperation and collaboration, in line with regional development, employment, innovation and education policies.
If your project needs or includes an element of eLearning, digital skills training or digital entrepreneurship, we are your partner. Please, send, an email of collaboration to innovation@inerciadigital.com 
Inercia Digital, su socio digital para las propuestas de CoVEs.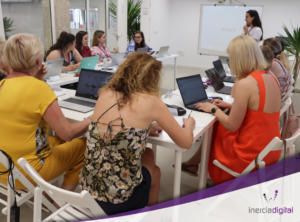 La iniciativa de los Centros de Excelencia Profesional (CoVE) apoya un enfoque ascendente de la Excelencia Profesional que implica a una amplia gama de partes interesadas locales. Permite a los centros de EFP adaptar rápidamente la oferta de competencias a la evolución de las necesidades económicas y sociales, incluidas las transiciones digital y ecológica. Los CoVEs operan en un contexto local determinado, siendo el eje de los ecosistemas de competencias para la innovación, el desarrollo regional y la inclusión social, a la vez que trabajan con CoVEs de otros países a través de redes de colaboración internacionales.
Esta acción ofrece oportunidades para la formación inicial de los jóvenes, así como para la actualización y recualificación continua de los adultos, mediante una oferta de formación flexible y oportuna que satisfaga las necesidades de un mercado laboral dinámico, en el contexto de las transiciones verde y digital. Esta acción actúa como catalizador de la innovación empresarial local, al colaborar estrechamente con las empresas y, en particular, con las PYME.
Inercia Digital es un centro español de FP (Formación Profesional para el Empleo) centrado en el fomento de las competencias digitales y emprendedoras a través de la formación especializada y la innovación en programas educativos y digitales. Somos expertos en componentes TIC (e-platforms, apps, robótica y diversas soluciones tecnológicas), diseñando recursos pedagógicos innovadores e implementando  campañas de difusión y comunicación a nivel europeo e internacional.
Nuestra misión es impulsar la formación y la innovación en competencias digitales en toda Europa, tanto para las instituciones educativas como para los profesionales, para el mercado laboral y para todos los ciudadanos europeos en general. Nuestra visión es ser un Centro de Educación y Formación Profesional (FP) de Excelencia a nivel internacional a través de la mejora continua de la formación y la innovación en competencias digitales y emprendedoras, impulsando métodos de enseñanza y formación de excelencia, estableciendo una cooperación y colaboración permanente, en línea con las políticas de desarrollo regional, empleo, innovación y educación.
Si su proyecto necesita o incluye un elemento de eLearning, formación en competencias digitales o emprendimiento digital, somos su socio. Por favor, envíe un correo electrónico de colaboración a innovation@inerciadigital.com.
The following two tabs change content below.
Marta MM
Research Coordinator at Inercia Digital S.L. Graduada en Estudios Ingleses. Me encanta viajar y la música.