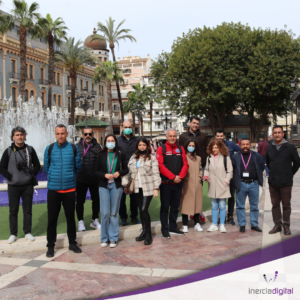 La llegada del junio es siempre un buen motivo para celebrar que el verano se aproxima, pero en Inercia Digital éste será sin duda nuestro junio y ¡puede ser el tuyo!.
Con cuatro cursos confirmados a la vista, la formación continua en el ámbito de la educación será uno de nuestros objetivos estratégicos principales.
Considerando la complejidad de los entornos VUCA, nuestra propuesta para junio será promover las competencias digitales y  emprendimiento, entendidas desde la transversalidad, necesarias para fomentar la autonomía personal y el desarrollo individual y colectivo.
Para ello, desarrollaremos las siguientes formaciones, ¡a las que todavía puedes unirte!
Todos nuestros cursos tienen una duración de 5 días (35 horas) con metodología mixta, en la cual se combinarán sesiones presenciales (de lunes a viernes de 9.00 a 13.00) con sesiones de dedicación autónoma individual y grupal online a través de la plataforma LCMS de Inercia Digital, en Moodle.
Si estás interesado/a en atender alguno de nuestros cursos, no dudes en contactar al equipo de Formación de Inercia Digital a través de nuestro correo electrónico training@inerciadigital.com o rellenar este formulario de preregistro a los cursos de Inercia Digital, indicando tus preferencias en cuanto a modalidad, temática y fecha estimada. Nos pondremos en contacto contigo con la mayor brevedad posible para ofrecerte aquellos itinerarios formativos que mejor se ajusten a tus necesidades y objetivos.
Además de estos cursos presenciales, recuerda que tenemos a tu disposición un amplio catálogo de formaciones online que puedes consultar aquí. Si quieres conocer más sobre los cursos que desarrollamos en Inercia Digital, visita nuestra página web. También puedes escribirnos a training@inerciadigital.com o a través de nuestras redes sociales:
June will be THE MONTH in Inercia Digital!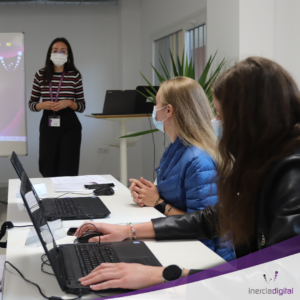 The arrival of June is always a good reason to celebrate that summer is approaching, but at Inercia Digital this will undoubtedly be our June and it could be also yours!
With four confirmed courses in sight, the promotion of digital and entrepreneurial skills in education will be one of our main strategic objectives.
Considering the complexity of VUCA environments, our proposal for June will be to promote digital skills and entrepreneurship, understood from a transversal perspective, necessary to promote personal autonomy and individual and collective development.
To do this, we will develop the following training courses, which you can still join!
All our courses have a duration of 5 days (35 hours) with a mixed methodology, in which face-to-face sessions will be combined (Monday to Friday from 9:00 a.m. to 1:00 p.m.) with individual and group autonomous dedication sessions through the Inercia LCMS platform. Digital, in Moodle.
If you are interested in attending any of our courses, do not hesitate to contact the Inercia Digital Training Team through our email training@inerciadigital.com or fill out this pre-registration form for the Inercia Digital courses, indicating your preferences in terms of modality, theme and estimated date, and we will contact you as soon as possible to offer you those training itineraries that best suit your needs and objectives.

In addition to these face-to-face courses, remember that we have at your disposal a wide catalogue of online training at your disposal, you can consult it here. If you want to know more about the courses that we develop in Inercia Digital, visit our website. You can also write to us at training@inerciadigital.com or through our social networks:
The following two tabs change content below.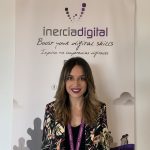 Laura Salgado Ferreira
(ES) Directora del Departamento de Formación. Pedagoga y Doctoranda en la Universidad de Huelva. "La educación no es preparación para la vida; la educación es la vida en sí misma" (John Dewey) (ENG) Training Manager. Pedagogue, PhD student at the Univerity of Huelva. "Education is not preparation for life, education is life itself" (John Dewey).