Aprendiendo y trabajando con EFIVOS. 
Como ya hemos mencionado en otras publicaciones, Inercia Digital se encuentra trabajando en un nuevo proyecto Erasmus+ KA3 titulado EFIVOS "Fomentar y promover los valores de inclusión entre los jóvenes mediante la mayor sensibilización y la mejora de los conocimientos y aptitudes necesarios en la era digital", que fomenta la inclusión social de jóvenes desfavorecidos de las comunidades migrantes o minoritarias a través de los medios de  información.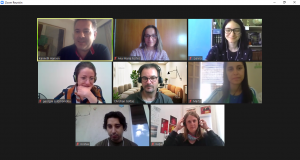 En el día de hoy y debido a la incapacidad de poder celebrar las reuniones transnacionales de forma presencial, hemos celebrado una reunión online para tratar aspectos de progreso del proyecto. A pesar de algunas demoras por culpa del COVID, estamos cumpliendo nuestros objetivos marcados logrando grandes resultados.
Nos hemos centrado en la organización de la formación de los profesionales que se celebrará entre octubre – noviembre en Atenas, Grecia. Para ello, hemos mantenido una discusión sobre los diferentes aspectos: agenda, distribución de tareas de los socios, objetivos principales, método de aprendizaje, etc.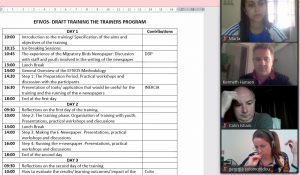 Finalmente, queremos agradecer a todos los socios su activa participación en este meeting.
Por último, si desea obtener más información sobre este proyecto, por favor haga clic aquí. 
Learning and working with EFIVOS.
As we have already mentioned in other publications, Inercia Digital is working on a new Erasmus+ KA3 project entitled EFIVOS "Encouraging and Fostering Inclusive Values among youth by Increasing awareness and enhancing KnOwledge and Skills"  which promotes the social inclusion of disadvantaged young people from migrant or minority communities through the media.
Today, due to the inability to hold the transnational meeting face to face, we have held an online meeting to discuss aspects of the project's progress. Despite some delays due to the COVID, we are meeting our goals by achieving great results. 
We have focused on the organization of the training of professionals to be held between October – November in Athens, Greece. To this end, we have held a discussion on the different aspects: agenda, distribution of tasks of the partners, main objectives, learning method, etc.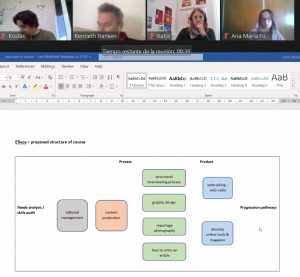 Finally, we would like to thank all the partners for their active participation in this meeting.
Lastly, if you want to obtain more information about this project, please click here.
The following two tabs change content below.
Marta MM
Research Coordinator at Inercia Digital S.L. Graduada en Estudios Ingleses. Me encanta viajar y la música.