¡Seguimos trabajando en los proyectos aprobados! 
El pasado 26 de febrero se celebró un encuentro entre Raquel Lombardi, presidenta de la Associação Cultural e de Solidariedade Social Raquel Lombardi y Cristina Romero, coordinadora de formación en Inercia Digital, con el fin de seguir trabajando en el proyecto de movilidad Erasmus+ KA104 que fue aprobado en 2020. La pandemia del Covid-19 impidió que los cursos de este proyecto pudieran realizarse presencialmente, sin embargo, los socios no han dejado de trabajar en él, manteniendo el contacto y mejorando la organización y personalización de las formaciones. ¡A pesar de la pandemia el proyecto sigue avanzando!
En esta reunión, ambas organizaciones centraron sus esfuerzos en organizar los cursos de aprendizaje que tendrán lugar el próximo mes de Julio, esta vez sí, de forma presencial. ¡Una gran noticia! Además, se seleccionaron a los participantes que asistirán a los dos cursos aprobados por el proyecto, miembros de la Associação Cultural e de Solidariedade Social Raquel Lombardi, quienes están comenzando a trabajar en proyectos relacionados con las temáticas de los cursos a los que asistirán. 

El objetivo fundamental de este proyecto es el desarrollo de las competencias y habilidades digitales de los trabajadores y miembros de esta organización, que les permita mejorar y desarrollar de forma autónoma trabajos, programas y proyectos digitales en su organización.
Con este fin, en la reunión mantenida se compartieron impresiones sobre la evolución del mismo, Raquel pudo conocer mejor el entorno en el que se impartirán los cursos presencialmente, nuestra Escuela El Rompido (El Rompido, Huelva), un centro situado en un entorno privilegiado. 
Además, se dio a conocer el programa de los cursos que se impartirán del 24 de Julio al 1 de Agosto. En concreto, estos cursos son: "Herramientas colaborativas para Trabajo en equipo ", que proporciona herramientas digitales que integrarán las TIC en los campos de trabajo de los participantes y mejorarán su trabajo en equipo; y  "Creación de blogs y sitios web educativos con WordPress", que anima a los asistentes a familiarizarse con WordPress como herramienta fundamental para crear blogs y sitios web para usarlos en clase o como herramienta de apoyo.  Si estás interesado en acudir a nuestros cursos puedes registrarte aquí y el equipo de formación contactará contigo a la mayor brevedad posible.
Como resultado de dicha formación, los participantes podrán ser capaces de desarrollar su propia página web, esta será su principal tarea, sobre la que ya están empezando a trabajar. Para continuar con el proyecto, el próximo mes de abril, recibirán una sesión online inicial sobre WordPress. 
¡Seguimos trabajando!
Si quieres saber más sobre el proyecto, te interesaría participar en un proyecto similar o asistir a alguno de nuestros cursos, no dudes en contactar con training@inerciadigital.com y seguirnos en nuestras redes sociales. 
We keep working on the approved projects!
On February 26, a meeting was held between Raquel Lombardi, president of the Associação Cultural e de Solidariedade Social Raquel Lombardi and Cristina Romero, training coordinator at Inercia Digital, in order to continue working on the Erasmus + KA104 mobility project, which was approved in 2020. The Covid-19 pandemic prevented the courses of this project from being carried out in person, however, the partners have not stopped working on it, maintaining contact and improving the organization and customization of the training. Despite the pandemic, the project continues to advance!
At this meeting, both organizations focused their efforts on organizing the learning courses that will take place next July, this time in person. Great news! In addition, the participants who will attend the two courses approved by the project were selected, members of the Associação Cultural e de Solidariedade Social Raquel Lombardi, who are beginning to work on projects related to the themes of the courses they will attend.
The main goal of this project is the development of digital skills and abilities of the workers and members of this organization, which allows them to improve and independently develop digital jobs, programs and projects in their organization.
Impressions were shared about the project's evolution, Raquel was able to know more about the environment in which the courses will be taught in person, our El Rompido School (El Rompido, Huelva), a center located in a privileged environment.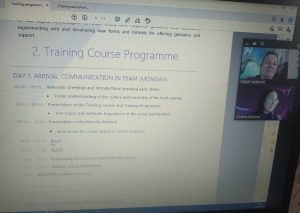 In addition, the Training Programmes of the courses, which will be taught from July 24 to August, 1 were announced. Specifically, these courses are: "Collaborative Tools for Teamwork", which provides digital tools that will integrate ICT in the participants' fields of work and improve their teamwork; and "Creating Educational Blogs and Websites with WordPress," which encourages attendees to become familiar with WordPress as a fundamental tool for creating blogs and websites for use in class or as a support tool. If you are interested in attending our courses, you can register here and the training team will contact you as soon as possible.
As a result of this training, participants will be able to develop their own website, this will be their main task, on which they are already starting to work. Next April, future participants of the courses will receive an initial online session about WordPress.
We keep working!
If you want to know more about the project or you would be interested in participating in a similar project, do not hesitate to contact training@inerciadigital.com and follow us on our social networks.
The following two tabs change content below.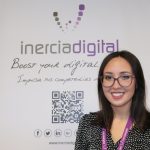 Cristina Romero
Coordinadora de formación en Inercia Digital. Graduada en Administradicón y Dirección de Empresas yTurismo. Training Coordinator at Inercia Digital. Double degree in Business Administration and Management and Tourism.