Primer encuentro transnacional del proyecto Europeo MADE IN EU. Un proyecto en el que su propósito es la ''Producción segura de ropa infantil para su exportación'
El primer Transnational Projects Meeting de este proyecto Erasmus + KA2 tuvo lugar los días 28 y 29 de enero en la ciudad de Bursa, situada al noroeste de Turquía. Este proyecto tiene una duración de 30 meses (desde noviembre de 2019 hasta abril de 2022). Se ha creado MADE IN EU para combatir la inseguridad que encontramos hoy en día en los productos textiles destinados a los niños, ya que muchas exportaciones que se realizan a la Unión Europea no cumplen con los criterios óptimos para su venta, por cuestiones de seguridad, calidad, etc.
Este proyecto va dirigido a un target muy específico si hablamos de producción de ropa infantil, y son los siguientes:
Empresas de ropa infantil

Proveedores que operan en el sector de ropa infantil y personal que trabaja en el sector de la ropa infantil.
En este primer meeting se establecieron los objetivos principales del proyecto, son:
Aumentar la cualificación profesional y el nivel de calidad de las PYMES que operen en el sector de la ropa infantil.

Mejorar el conocimiento y las habilidades en las etapas de producción (diseño, materias primas, productos semi-acabados, etc.) como el suministro de componentes  del producto y su respectivo control de calidad para cubrir los criterios óptimos.

Se realizará una plataforma de formación online donde los fabricantes de ropa infantil europea puedan tener acceso a la información y así garantizar buenos resultados.
Este proyecto está compuesto por ocho socios de tres países diferentes (Turquía, Italia y España), provenientes del sector público, privado y universitario. De Turquía los socios correspondientes son Bursa Ticaret II Mudurlugu, Bursa Chamber of Commerce and Industry, GAZI Universitesi y Bursa Valiligi. Respecto a Italia, los socios son Ilmiolavoro SL y Camera di Commercio Industria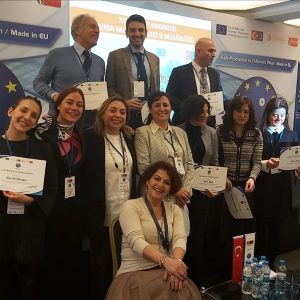 Artigianato e Agricoltura di Teramo. Y para finalizar, el socio que representa a España es Inercia Digital
En este primer encuentro también se comentó diferentes expectativas como:
El incremento de la cuota de mercado de la ropa infantil producida en la Unión Europea y aumentar la capacidad de producción de las empresas.

La disminución de las tasas de desempleo gracias al establecimiento de nuevas empresas en el sector.

El incremento de la capacidad de exportación de las empresas del sector de la confección infantil al aumentar sus habilidades profesionales y administrativas.

El aumento de la tasa de productos seguros en los productos de ropa infantil, que a su vez se pondrán a libre disposición en el mercado de la Unión europea.
First transnational meeting of the MADE IN EU european project. A project whose purpose is the "Safe production of children's clothing for export".
The first Transnational Projects Meeting of this Erasmus + KA2 project took place on the 28th and 29th of January in the city of Bursa, located in north-west Turkey. This project has a length of 30 months (from November 2019 to April 2022). MADE IN EU has been created to fight the insecurity found nowadays in the textile products destined to children, as many exportations done in the European Union do not comply with the optimum criteria for sale because of safety issues, quality…
This project is aimed at a very specific public if we talk about the production of children's clothing, and they are the following:
Children's clothing companies

Suppliers who operate in the children's clothing sector and staff who work in the children's clothing sector.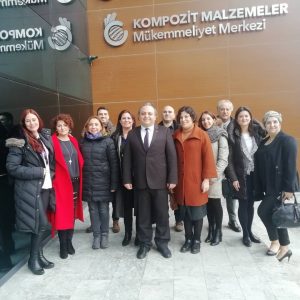 In this first meeting the main objectives of the project were established, they are:
Increasing the professional qualification and the quality level of the SMEs operating in the children's clothing sector.

Improving knowledge and skills in the production stages (design, raw materials, semi-finished goods…) like components supply of the product and its respective quality control to cover the optimum criteria.

An online training platform will be made.There, manufacturers of european children's clothing can access the information, and, therefore, ensure good results.
This project is composed of eight associates from three different countries (Turkey, Italy and Spain), from the public, private and university sector. From Turkey the respective associates are Bursa Ticaret II Mudurlugu, Bursa Chamber of Commerce and Industry, GAZI Universitesi y Bursa Valiligi. As for Italy, the associates are Ilmiolavoro SL y Camera di Commercio Industria Artigianato e Agricoltura di Teramo. Finally, the associate representing Spain is Inercia Digital.
Increasing the market share of children's clothing produced in the European Union and increasing the production capacity of companies.

Reducing rates of unemployment thanks to the establishment of new companies in the sector.

Increasing the export capacity of companies in the children's clothing sector by increasing their professional and administrative skills.

Increasing the rate of safe products among children's clothing products, which at the same time will be put free disposal in the European Union market.
The following two tabs change content below.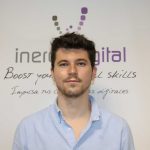 Enrique Picon
Project Coordinator at Inercia Digital
Me encanta trabajar con otras personas y ver que mis acciones ayudan a los demás. También me apasionan los deportes y la naturaleza. I love working with other people and seeing that my actions help others. I am also passionate about sports and nature.