Inercia Digital will organise from 3rd to 9th, August 2017 training course called, Effective usage of Mobil and smart devices in the classroom, in PCTH, Aljaraque.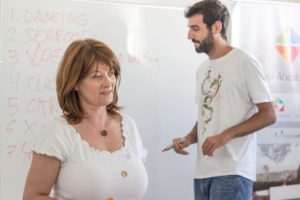 The course will be delivered to Turkish teachers and staff from the school ORTAKÖY 80:YIL MESLEKİ ve TEKNİK ANADOLU LİSESİ. The main topic will be Google suit. Inercia Digital will explain to the participants how to create an account, the use of Gmail and opportunities that offer. The course will also provide information about Google Drive, its effective use in the classrooms and between teachers and staff of the school. We will work with Google Docs, Google Sheets, Google Slides and Forms. The course also includes Slack, Trello and Kahoot. Part of the course will be a cultural visit of Huelva to share the Spanish culture with our participants.
For training course, Effective usage of Mobil and smart devices in the classroom, we will use tablets and white board.
The participation is open to professors and staff of the European schools. Whether you are interested in participating in any of those seminars or you have any query about it, you can contact us at erasmusplus@inerciadigital.com.
For more information about Staff Mobility for Teaching and Training, please follow this links here and here. For more information about the European Union support for students and staff exchanges and university cooperation, please follow the link here.
The following two tabs change content below.
Veronika Fricova
Training Manager at Inercia Digital
Latest posts by Veronika Fricova (see all)