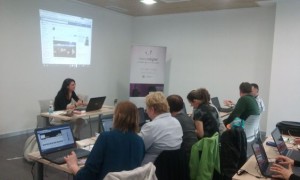 This week is celebrating in Huelva the course  Personal Learning Environments (PLE) for a group of primary school teachers from  Macedonia and Poland.
This course is included on the Program Digital School of the Erasmus+ Andalucía School (Ka1)
This training course will follow a Non Formal methodology in every field, in order to promote the interaction between students and trainers as well as between students themselves.
Different methods will be developed within the in-person sessions, giving special attention to the Case method and the Interrogative one.
Moreover, students will work on the Inercia Digital's online platform. Downloads of learning and supporting materials will be useful to participate in debate forums, ask doubts, interact with other students, complete the required tasks for evaluation, and to do the final theoretical questionnaires. The students will have access to the online platform at any moment, 24/7.
The Objectives of the Course are  to think about our way of learning and the formal and informal context to build our PLE according to the personal and professional necessities we identify.
The PLE (Personal Learning Environment) is a focus of the learning. It is firstly related to the non-formal learning and it is developed and extended due to the possibilities that Internet gives us. It provides us with free tools and resources to look for, filter and order information and create and share through them.
Inercia Digital has introduced the ISO 29990:2010 in every course and service of formation (specific norm of quality for suppliers of learning services of non-formal education and formation). Introduced as a result of CooperActive Project– Erasmus+, Ka2 Capacity-Building Project in the field of Youth Project (2015).
If you are interested in this or other course for European teachers, please contact us at erasmusplus@inerciadigital.com
You can also visit our catalogue of courses http://d.inerciadigital.com/catalogue/
The following two tabs change content below.

Máster en Formación y Enseñanza E-Learning. Experto en Web 2.0 para PYMES.

Latest posts by Jose Manuel Luna Huertas (see all)