Inercia Digital, a leading digital education company, has recently organized a highly informative and engaging one-week training course in Huelva, Spain. The course, titled «LC080523 Multimedia Publishing in Education,» aims to empower educators with the necessary skills and knowledge to incorporate technology into their teaching practices. The course is being led by the talented and experienced trainer/coach, Isabel Gonzalez Contreras, and attended by a group of 4 professionals from Integrity Earth (Liechtenstein) and 5 professionals from Youth Center of Epirus (Greece).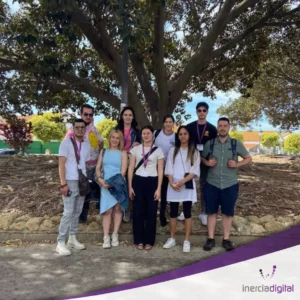 Throughout the week, we are successfully achieving the learning goals set for the course. Firstly, we have gained a comprehensive understanding of Technology-Enhanced Teaching, learning how to effectively integrate digital tools and resources into their lessons. Secondly, we have witnessed firsthand how students can acquire essential digital skills within the classroom, enhancing their learning experiences. Moreover, the course is enabling us to explore various online platforms that facilitate interpersonal communication and collaborative work between students, teachers, and families. We are also discovering the benefits and functionalities of virtual classrooms for distance learning, broadening their teaching possibilities.
During our free time in Huelva, we are making the most of our stay, enjoying the local attractions and soaking up the vibrant culture of the city. We have the opportunity to savor the delicious local cuisine, visit historical landmarks, and relax on the beautiful beaches.
In conclusion, the one-week training course organized by Inercia Digital in Huelva, Spain, is a resounding success. We as participants are not only achieving the intended learning goals but also having a memorable experience exploring the city and connecting with fellow educators.
We extend our warm invitation to educators who missed this opportunity to consider joining future courses conducted by Inercia Digital. With their expertise and commitment to providing high-quality training, Inercia Digital promises to continue offering valuable courses that empower educators to integrate technology effectively in their classrooms. Whether it is Multimedia Publishing in Education or other relevant topics, Inercia Digital is dedicated to supporting educators on their professional development journey.
Don't miss out on the chance to enhance your teaching practices and join Inercia Digital for an upcoming course. Together, let's harness the power of technology to shape the future of education.
The following two tabs change content below.