Primer curso de formación del Proyecto KA2 MIL "Media and Information Literacy in adult education"
El pasado 3 de marzo dio comienzo el primer curso de formación del proyecto KA2 MIL "Media and Information Literacy in adult education".  Este curso tuvo lugar del 3 al 9 de Marzo en nuestras instalaciones de El Rompido. En él participaron un total de 9 asistentes pertenecientes a las distintas organizaciones que forman el consorcio: Eesti People to People (Estonia), Udruga Prizma (Croacia), Mitra France (Francia) e Inercia Digital (España). 
El objetivo de este curso fue equipar a los participantes con las herramientas necesarias para dar forma a un taller innovador sobre Alfabetización Mediática e Informacional (MIL). Para ello, los participantes examinaron las funciones e influencias de los medios de comunicación y otros proveedores de información, evaluaron de forma crítica casos de argumentación específicos y analizaron cómo los medios convencionales y sociales crean desinformación intencionada o desintencionada.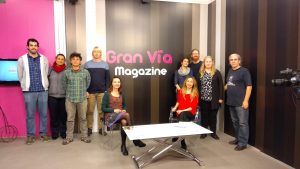 Además, tuvimos la suerte de reunirnos con periodistas y otros expertos en la materia, los cuales compartieron  sus experiencias sobre el tratamiento de la información y nos presentaron sus proyectos sobre Fake News y periodismo de migración y minorías. En Huelva visitamos: Cadena Ser Radio, Asociacion Invisible y Grupo Comunica de la Universidad de Huelva y  Huelva Televisión. En Sevilla vistamos: EMA-RTV y El Periódico ABC. Desde Inercia Digital queremos agradecer a todas estas entidades por su colaboración y la atención recibida. ¡Nos hemos enriquecido mucho con estas visitas!
El programa formativo del curso estuvo formado por los siguientes módulos:
Módulo 1: Las representaciones sociales y la representación de la realidad.

Módulo 2: Radicalización, migrantes, refugiados en los medios de comunicación de la UE y del mundo.

Módulo 3: Análisis de contenido: Identificación de falacias en periódicos.

Módulo 4: Canales de información y estilos de comunicación.

Módulo 5: Reunión con periodistas.

Módulo 6: Redes sociales.  

Módulo 7: Integración del taller MIL en el trabajo diario.
Queremos dar las gracias a todos los participantes por su implicación y entusiasmo en las actividades de este curso.
Si quieres saber más sobre el proyecto MIL, por favor visita la página de Facebook del proyecto y navega a través de los posts. Si sigues la página podrás estar al tanto del progreso del proyecto y de los nuevos desarrollos. También puedes visitar nuestra página web y leer otras publicaciones escritas sobre este proyecto en nuestro blog.
First training course of the KA2 MIL Project «Media and Information Literacy in adult education»
The first training course of the KA2 MIL project «Media and Information Literacy in adult education» kicked off earlier this month and took place from 3rd to 9th of March at our facilities in El Rompido. A total of 9 attendees from the different partner organisations took part in it, namely;  Eesti People to People (Estonia), Udruga Prizma (Croatia), Mitra France (France) and Inercia Digital (Spain).
The aim of this course was to provide participants with the necessary tools to developan innovative workshop on Media and Information Literacy (MIL). To this end, participants examined the roles and influences of media and other information providers, critically evaluated specific cases studies, and analysed how conventional media and social media create intentional or unintentional misinformation.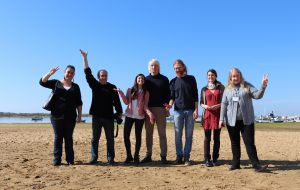 In addition to the workshop activities, we were fortunate enough to meet with journalists and other experts in the field, who shared their experiences in information processing and presented their projects on Fake News and migration and minority journalism. In Huelva we visited Cadena Ser Radio, Asociacion Invisible and Grupo Comunica de la University of Huelva and  Huelva Television. In Seville, we stopped by : EMA-RTV and the ABC Newspaper. From Inercia Digital we would like to thank all the above-named entities for their collaboration and for the warm hosting. We found those visits realling enriching!
The training programme of the course was divided into the following modules:
Module 1: Social representations and the portrayal of reality.  

Module 2: Radicalisation, migrants, refugees in the EU and world media.

Module 3: Content analysis: Identification of fallacies in newspapers.

Module 4: Types of information channels and style of communication.

Module 5: Meeting with local journalists and NGO workers.

Module 6: Social media.  

Module 7: Integrating MIL into daily work.
We would like to take the opportunity to also thank all the participants for their involvement and enthusiasm in the activities of this course.
If you want to find out more about  the MIL project please visit the project's Facebook page and browse through the posts. If you follow the page you´ll be able to keep up with the project's progress and new developments. You can also visit our website and read other publications written about this project in our blog.
The following two tabs change content below.
Nieves Magro Cruzado
Ingeniera y Profesora. En continuo aprendizaje: el saber no ocupa lugar.