Inercia Digital imparte la formación del proyecto VET Furnishing
Entre los días 23 y 27 del pasado mes de enero, se realizó en El Rompido School (Huelva) otra de las movilidades dentro del proyecto de acción clave 2 de Erasmus+ llamado VET Furnishing.
Durante esta movilidad, seis profesores del  OSB Teknik Koleji (en Turquía) se trasladaron hasta nuestro centro de formación en El Rompido para realizar una formación de cinco días relacionada, como es habitual, con las competencias digitales. La formación tiene por título Virtual Campus: the E-learning System y versa sobre las plataformas educativas en línea. El formador del equipo de Inercia Digital les habló sobre varios temas a destacar como pudieron ser: problemas y soluciones en el uso de herramientas de tecnología informática; formatos comunes en educación asistida por ordenador; herramientas de modelación y simulación; herramientas para el aprendizaje y uso de herramientas web 2.0.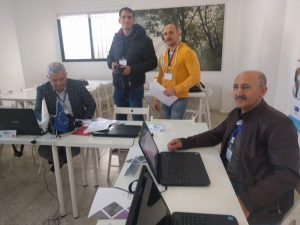 Con estos nuevos conocimientos y herramientas digitales nuestros participantes volvieron a casa llenos de nuevos pensamientos, ideas para poner en práctica y, por supuesto algo que no podía faltar, cultura onubense.
La próxima movilidad de este proyecto que se aprobó en 2016 se realizará en Viena (Austria), un destino precioso. ¡Os mantendremos informados!
Si queréis saber más sobre otras movilidades del proyecto haced click para ver los otros dos posts del blog:
Primer encuentro internacional de VET Furnishing en Londres
Segundo encuentro internacional de VET Furnishing
Inercia Digital carries out the training for the VET Furnishing project
During the days 23rd and 27th of the past month of January, another of the mobilities inside the Key Action 2 project of Erasmus+ called VET Furnishing was held at El Rompido School (Huelva).
In the course of this mobility, six teachers from OSB Teknik Koleji (in Turkey) came until our training centre in El Rompido to participate in a training of 5 days related to digital competences. The name of the course is Virtual Campus: the E-learning System and it addresses the topic of learning platforms. Inercia Digital's trainer spoke to them about several topics to remark such as: The Problems and Solutions on Information Technology Tools Usage; The Common Formats on Computer Aided Education; Modelling and Simulation Tools; Learning Tools and Web 2.0 Tools Usage.
With these new pieces of digital knowledge and tools, our participants came home full of new thoughts, ideas to put into practice and, of course, something we could not miss, some Huelva culture.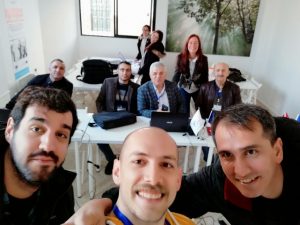 The next mobility of this project which was approved in 2016 will be held in Viena (Austria), such a beautiful destination. We will keep you updated!
If you want to know about more mobilities of the project check out these two other blog posts:
First transnational meeting of VET Furnishing in London
Second transnational meeting of VET Furnishing
The following two tabs change content below.
Elena Limón Mora
Training coordinator at Inercia Digital. Lectora, feminista y amante de los idiomas.
Latest posts by Elena Limón Mora (see all)