Los días 9 y 10 de febrero Inercia Digital ha participado en el primer encuentro de un nuevo proyecto llamado "DIGA – Digital Innovations for Growth Academy" (Innovación digital para el crecimiento de centros de Formación Profesional). El proyecto DIGA opera a través de una Asociación estratégica del Programa Erasmus+ de siete estados miembros. Los socios son tanto del sector privado como público. A través de la prueba y  de los materiales del Proyecto se incluirán 120 empresas de formación de 5 países socios. 
El objetivo del proyecto es permitir el desarrollo digital y de las herramientas TIC para formadores y empresas de formación profesional para mejorar sus competencias digitales y dirigir las necesidades claves hacia:
      Desarrollo de las TIC y de las competencias digitales, del conocimiento y capacidad de profesores de Formación profesional para ser capaz de  apoyar al alumnado en prácticas dentro de las empresas  más efectivamente y fomentar la mejor adopción de las herramientas digitales y TIC.
      Desarrollo de programas de Formación Profesional para apoyar las necesidades de cambio de la mano de obra/economía en particular de la Unión Europea a través de la integración de las TIC y de la documentación digital.
      Asegurar que los programas de Formación Profesional están abiertos a la igualdad y son  accesibles a estudiantes tanto mujeres como hombres.
La innovación digital del crecimiento de centros de Formación Profesional va a desarrollar:
         Un completo análisis de investigación definiendo un análisis que indique las necesidades de formación, en un desarrollo de negocio y de un contexto de aprendizaje de empresas de formación.
        Un nuevo currículum de Formación Profesional, Tics y documentación digital en el marco de las empresas de formación.
         Una formación y desarrollo de programas con un material detallado y recursos online para apoyar la formación mixta (presencial y online)
Los socios del proyecto son:
Para más información pueden contactar con nosotros en contacta@inerciadigital.com y para ver las fotos del encuentro pueden hacerlo en el canal de Pinterest.
Gracias por su interés y un saludo!
The nineth and tenth of February  Inercia Digital has participated in the first meeting called DIGA Project, Digital Innovations for Growth Academy. DIGA Project operates through a Strategic Partnership from seven member states. The partners are from the social, private and public sectors. Through the testing and piloting of the Programme materials the project will include 120 enterprise trainers and educators from five partner countries.
This project aims to enable the enhanced deployment of digital and ICT tools by VET enterprise trainers and educators and improve their digital competencies in order to address the key needs to:
        Develop the ICT and digital skills, knowledge and capacity of VET trainers to enable them to support learners within SMEs more effectively and encourage greater adoption of digital and ICT tools.
        Develop VET programmes to support the changing needs of the EU workforce/economy in particular through the integration of ICT and digital literacy
        Ensure that VET programmes are equally open and accessible to women and men learners.
The Digital Innovations for Growth Academy will develop:
a comprehensive research analysis defining the training needs, in a business development and learner context, of enterprise trainers and educators
a new VET curriculum and ICT and digital literacy competency framework for enterprise trainers and educators.
a training and development programme with comprehensive materials and on-line resources to support blended learning
a detailed Trainer Guidance manual which incorporates pedagogy and technical support
The project's associate members are:
For more information please contact us in contacta@nerciadigital.com and if you want to see the pictures of the meeting please go to Pinterest board.
Thank you for your attention,
our best regards.
The following two tabs change content below.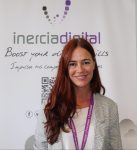 Caridad Mtnez. Carrillo de Albornoz
Licenciada en Derecho en la especialidad de Empresa y fiel creyente en las competencias digitales y el smartworking para fomentar el empleo y el emprendimiento ; )