The Digital Europe 2021-2027 programme focuses on strengthening Europe's digital technology capabilities through large-scale deployment, broadening its diffusion and introduction in areas of public interest and in the private sector, with the intention of maximising the benefits of digitisation. Within this programme is the call «Promoting European Innovation in Education« which will remain open until 17 May. 🔚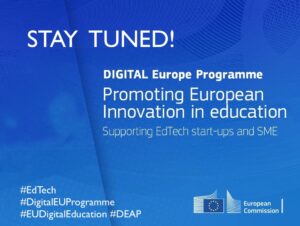 This call is focused on the digital transformation of the education sector at European level, by boosting innovation in education in Europe by supporting EdTech start-ups and SMEs to accelerate their disruptive EdTech solutions. 
The expected outcomes of the call are increased collaboration in the digital education sector in Europe between European EdTech start-ups/SMEs and other relevant stakeholders and across Europe. The call will also contribute to increase synergies, foster the exchange of good practices among  digital education initiatives, and help the education sector to be better prepared for possible future crises, such as additional closures due to the Covid-19 pandemic.
From Inercia Digital we are interested in this call because we think we can fit in projects developed for this occasion, mainly because we are specialised in educational innovation. We are an officially accredited vocational training centre focused on the promotion of digital and entrepreneurial skills in Europe. We also work in the development of international educational projects to boost innovation and promote digital and entrepreneurial competences, continuously striving to be an active participant in the development of international innovative projects, proof of this are the more than 100 European projects promoting digital innovation that we are part of (Erasmus+, Lifelong Learning Programme, Tempus, Interreg and CYTED). 
💻 So if you are thinking of participating in this call and you are looking for a partner specialized in ITC components and educational innovation, please do not hesitate to contact us at innovation@inerciadigital.com 📩
Inercia Digital

@inerciadigital.s.l

@InerciaDigital 

Inercia Digital

@inerciadigital

Inercia Digital S.L
🇪🇺 Convocatoria abierta de Europa Digital "Fomento de la Innovación Europea en Materia de Educación" 🔍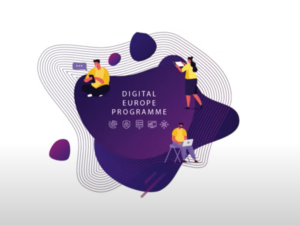 El programa Europa Digital 2021-2027 se centra en fortalecer las capacidades de Europa en materia de tecnología digital a través de un despliegue a gran escala, ampliando su difusión e introducción en áreas de interés público y en el sector privado; con la intención de maximizar los beneficios de la digitalización. Dentro de este programa se encuentra la convocatoria "Fomento de la innovación europea en materia de educación" que permanecerá abierta hasta el día 17 de mayo. 🔚
Esta convocatoria está centrada en la transformación digital del sector de la educación a nivel europeo, mediante el impulso de la innovación en la educación en Europa con el apoyo a las empresas emergentes de EdTech y a las PYME para acelerar sus soluciones disruptivas de EdTech. 
Los resultados que se esperan de la convocatoria son una mayor colaboración en el sector de la educación digital en Europa entre las start-ups/pymes europeas de EdTech y otras partes interesadas relevantes y en toda Europa. La convocatoria también contribuirá a aumentar las sinergias, fomentar el intercambio de buenas prácticas, y ayudar al sector educativo a estar mejor preparado para posibles crisis futuras, como los cierres adicionales a causa de la pandemia de Covid-19.
Desde Inercia Digital estamos interesados en esta convocatoria porque pensamos que podemos encajar en proyectos desarrollados para esta ocasión, principalmente porque estamos especializados en proyectos educativos innovadores. Somos un centro de Formación Profesional acreditado oficialmente y centrado en el fomento de las competencias digitales y empresariales en Europa. Además trabajamos en el desarrollo de proyectos educativos internacionales para impulsar la innovación y promover las competencias digitales y emprendedoras, esforzándonos continuamente por ser un participante activo en el desarrollo de proyectos innovadores internacionales, prueba de ello son los más de 100 proyectos europeos de promoción de la innovación digital de los que formamos parte (Erasmus+, Programa de Aprendizaje Permanente, Tempus, Interreg y CYTED).
📝 Así que si estás pensando en participar en esta convocatoria y buscas un socio especializado en componentes TIC y innovación educativa no dudes en contactar con nosotros a través de innovation@inerciadigital.com 📢
Inercia Digital

@inerciadigital.s.l

@InerciaDigital 

Inercia Digital

@inerciadigital

Inercia Digital S.L
The following two tabs change content below.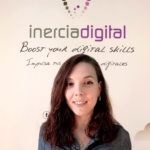 Alicia Ballester
Innovation Coordinator at Inercia Digital. Graduada en filología clásica y máster en Patrimonio Historico y Cultural.