European Digital SME Alliance, está promoviendo la campaña #DigitalSolutions, en la cual Inercia Digital participa como entidad formadora y facilitadora, y así lo ha hecho saber a través de diferentes medios de difusión, como puedes ver aquí!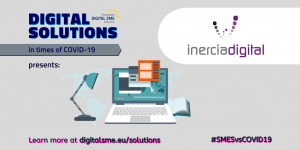 La gestión de los procesos y entornos educativos, se ha visto dificultada por la situación sociosanitaria ocasionada por el COVID19. La formación a distancia, o los métodos mixtos que combinan presencialidad y online, se han catapultado estos últimos meses como la mejor opción para proporcionar formación de calidad en entornos seguros.
En entornos presenciales, se facilitan procesos fundamentalmente naturales, como los propios de socialización, pero, ¿podemos generar entornos retroalimentativos, motivadores y significativos desde la distancia? La respuesta es sí, y por ello Inercia Digital se presenta a la iniciativa #DigitalSolutions, presentando alternativas metodológicas innovadoras como "Flipped Classroom" que pretende subrayar la importancia de crear procesos educativos en los cuales el alumnado sea el protagonista y eje principal de los mismos, invirtiendo las metodologías tradicionales de instrucción. Así, el contenido teórico se reserva al desempeño autónomo en el hogar, mientras que es en la escuela donde se aprende haciendo, poniendo en marcha mecanismos de resolución de problemas, trabajo por proyectos, etc.
Si bien es cierto que las nuevas tecnologías han funcionado hasta ahora como un recurso educativo, como educadores tenemos que ser capaces en este momento de generar entornos de aprendizaje de retroalimentación a través de ellas, que permitan la socialización y todas esas habilidades transversales de la formación presencial. Tenemos muchas herramientas para hacer que nuestros entornos y acciones de aprendizaje sean tan significativos como siempre, o más, ¡lo nuevo es siempre motivador!, solo necesitamos conocer y ordenar dichas herramientas. 
El equipo de Inercia Digital, nos implicamos en este proyecto con mucha ilusión, y queremos agradecer a European Digital SME Alliance permitirnos ser parte de esta iniciativa tan bonita y necesaria!
Siendo la red más grande de pequeñas y medianas empresas del ámbito TIC en Europa, representa a unas 20.000 PYME digitales. La alianza es el esfuerzo conjunto de 30 asociaciones de PYME nacionales y regionales de los estados miembros de la UE y países vecinos para poner a las PYME digitales en el centro de la agenda de la UE; y desde luego, con medidas como ésta, ¡lo están consiguiendo!
Si quieres saber más sobre esta campaña, no dudes en visitar nuestras redes sociales, Facebook, Instagram, Linkedin; o la página web de la iniciativa 
Inercia Digital joins the #DigitalSolutions initiative of the European Digital SME Alliance.
European Digital SME Alliance is promoting the #DigitalSolutions campaign, in which Inercia Digital participates as a training and facilitating organization, and has made it known through different media, as you can see here!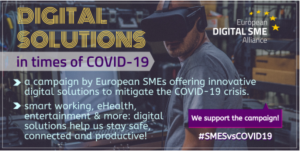 The management of educational processes and environments has been hampered by the social health situation caused by COVID19. Distance learning, or mixed methods that combine face-to-face and online, have been catapulted in recent months as the best option to provide quality training in safe environments.
In face-to-face environments, fundamentally natural processes such as socialization are facilitated, but can we generate feedback, motivating and meaningful environments from the distance? The answer is yes, and that is why Inercia Digital presents itself to the #DigitalSolutions initiative, presenting innovative methodological alternatives such as "Flipped Classroom" that aims to underline the importance of creating educational processes in which the student is the protagonist and main axis, reversing traditional instructional methodologies. Thus, the theoretical content is reserved for autonomous performance at home, while it is at school where they learn by doing, setting up problem-solving mechanisms, work by projects, etc.
Although it is true that new technologies have worked until now as educational resources, as educators, we have to be able at this time to generate feedback learning environments through them, which allow socialization and all those transversal skills of training in person. We have many tools to make our learning environments and actions as meaningful as ever, or more, new things are always motivating! We just need to know and order these tools.
The Inercia Digital team, we get involved in this project with great enthusiasm, and we want to thank the European Digital SME Alliance for allowing us to be part of this beautiful and necessary initiative!
As the largest network of small and medium-sized companies in the ICT field in Europe, it represents around 20,000 digital SMEs. The alliance is the joint effort of 30 national and regional SME associations from EU member states and neighboring countries to put digital SMEs at the center of the EU agenda; and of course, with measures like this one, they are succeeding!
If you want to know more about this campaign, do not hesitate to visit our social networks, Facebook, Instagram, Linkedin; or the website of the initiative
The following two tabs change content below.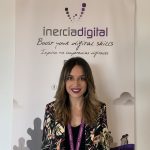 Laura Salgado Ferreira
(ES) Directora del Departamento de Formación. Pedagoga y Doctoranda en la Universidad de Huelva. "La educación no es preparación para la vida; la educación es la vida en sí misma" (John Dewey) (ENG) Training Manager. Pedagogue, PhD student at the Univerity of Huelva. "Education is not preparation for life, education is life itself" (John Dewey).