Terminado con éxito el curso de formación "Collaborative Tools for Teamwork" de Inercia Digital.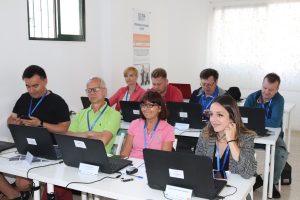 El día 7 de julio comenzó en El Rompido School el curso de Collaborative Tools for Teamwork  impartido por Inercia Digtial, al que acudieron profesores de Zespoł Szkół w Żychlinie de Polonia, y el cual tuvo una duración de siete días, finalizando el pasado 13 de julio.
Este curso busca mejorar la comunicación y la forma de trabajo conjunta entre los asistentes a través de una serie de herramientas para incrementar su productividad a través del trabajo en equipo. Los asistentes mejoraron sus conocimientos de Google Drive al practicar con las diferentes herramientas dentro de la plataforma, ya fuera para hacer sugerencias, poner comentarios en un documento, trabajar en equipo dentro del mismo documento o saber las diferentes funciones de Google Sheets. Incluso vieron la utilidad de Google Keep y pudieron crear un formulario con Google Form.
Otra de las herramientas colaborativas que enseñamos a usar a los participantes fue Trello, donde crearon su propio tablón, el cual compartieron los unos con los otros, y aprendieron a crear listas, tarjetas y las funciones que se podían desarrollar dentro de cada tarjeta. La última herramienta que se vio fue la de Slack, una aplicación de mensajería instantánea útil para el trabajo en equipo donde se pueden crear canales dependiendo de las funciones específicas que cada equipo deba desarrollar.
El día de buenas prácticas, los asistentes al curso visitaron UniRadio, la radio de la Universidad de Huelva, y Andalucía Compromiso Digital. En la visita a UniRadio aprendieron acerca de cómo empezó aquella aventura, los diferentes premios y reconocimientos que tienen además de poder grabar un pequeño programa de radio para ver cómo esta funciona. En Andalucía Compromiso Digital les explicaron su labor como voluntarios para acercar las nuevas tecnologías a todo aquel que lo necesitase y cómo surgió esa idea.
El curso finalizó el día 13 de julio con la entrega de los certificados de formación tras pasar la prueba de evaluación.
Si quieres saber más acerca de este curso de formación y otros que ofrecemos en Inercia Digital, visita nuestra página web así como nuestro Facebook e Instagram.
A successful end to Inercia Digital's "Collaborative Tools for Teamwork" training course.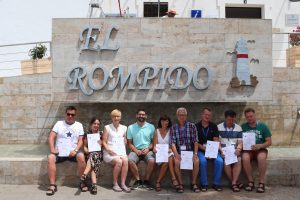 On  7th July the 7-day course "Collaborative Tools for Teamwork" taught by Inercia Digital kicked off in El Rompido School with the participation of teachers from Zespoł Szkół w Żychlinie in Poland. 
The aim of this course is to improve the communication and collaborative work between participants through different tools to increase their team working productivity. The participants improved their knowledge about Google Drive by testing the different functions in Google Docs and Google Sheets  like suggesting, commenting or working as a team in the same document They also saw the utility of Google Keep and created a form with Google Form.
We also worked with the collaborative tool Trello, where the participants created a board that they shared between them, they also created lists and cards and learned how to edit and move cards within boards. The last tool presented to participants was Slack, an instant messaging application ideal for groups where they can create channels depending on the team or department they belong to or the project they're working on.
During the good practices' day, the teachers visited UniRadio, the radio of the University of Huelva and Andalucía Compromiso Digital. In UniRadio they learned about how the project started and they recorded a small show to see how it works. In Andalucía Compromiso Digital they were told about their work as volunteers and their mission  to bring technology closer to citizens.
The course ended on July 13th with the evaluation test and the handing out of certificates.
If you want to learn more about our courses, please check our website, Facebook page or Instagram.
The following two tabs change content below.