Oferta de empleo: Formador/a en competencias digitales
Actualmente en Inercia Digital S.L. estamos buscando formadores en competencias digitales con buen nivel de inglés para impartir nuestros cursos y para que se unan a nuestra Red de Formadores.
Descripción del puesto
Las funciones del formador en competencias digitales serían las siguientes:
Impartir nuestros

cursos

en competencias digitales en inglés

 Preparar y organizar toda la documentación y materiales necesarios para impartir los cursos

Uso y gestión de la plataforma online
Requisitos de selección
Nivel de inglés avanzado

(equivalente a un B2 o superior)

Alto nivel en competencias digitales

Titulación académica universitaria o de formación profesional, preferiblemente relacionada con la informática.
Se valorará conocimientos y experiencia docente
Se ofrece
Se ofrece un contrato con categoría instructor durante la duración del curso impartido y  formar parte de la red de Formadores/as de Inercia Digital.
Formación inicial a cargo de la empresa y promoción interna.
Datos de la empresa
Inercia Digital S.L. es una joven empresa Andaluza especializada en impulsar la formación y la innovación en competencias digitales en Europa. Para obtener más información sobre nosotros, no dudes en visitar nuestra página web y nuestras redes sociales.
Si reúnes los requisitos y te interesa puedes ver nuestros cursos y decirnos qué cursos podrías impartir presencialmente y si en español o en inglés, cuando mandes email con tu currículum (preferiblemente en el modelo europeo)  a contacta@inerciadigital.com con el asunto Formador/a en competencias digitales y entrarás en el proceso de selección para la red de formadores de Inercia Digital.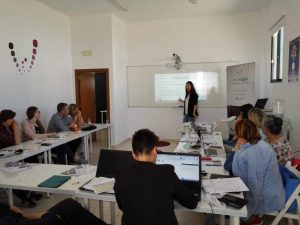 Job offer: Digital skills trainer
Currently, in Inercia Digital S.L., we are looking for trainers in digital skills with good level of English to teach our courses and to join our Network of Trainers.
Job Description
The tasks of the digital competences trainer would be the following:
Teaching

our courses

in digital skills in English

Preparing and organizing all documents and materials needed to teach Inercia Digital courses

Using and managing the online platform
Selection requirements
Advanced English level (B2 or more)

High level in digital competences

University Degree or VET certification in an area related to computer science
Knowledge and experience in teaching will be valued
Offer
A contract as an instructor for the duration of the course. Being part of the Network of Trainers of Inercia Digital. Initial ongoing training by the company and internal promotion.
Company info
Inercia Digital S.L. is a young Andalusian business that promotes training and innovation in digital skills across Europe. If you wish more info about us, you can visit our webpage and our social networks.
If you meet the requirements and you are interested you can check  our courses . Send an  email with your CV ( European model preferably) to contacta@inerciadigital.com with the subject «Digital Skills Trainer». Include in the email what courses you could teach in person and if you could do so in Spanish or in English. Then you will enter the selection process for the Network of Inercia Digital trainers.
The following two tabs change content below.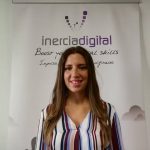 Nereida Varela
General Manager
at
Inercia Digital S.L.
Graduada en Administración y Dirección de Empresas y en Turismo. Me encanta el deporte y viajar, conocer nuevas culturas y explorar los rincones de este maravilloso mundo. // Graduated in Business and Tourism. I love sports and traveling, learning about new cultures and exploring the corners of this wonderful word.