Finaliza con éxito el Segundo Encuentro Transnacional de EliCCon
Los días 24 y 25 de Mayo de 2019 tuvo lugar, en el campus de la Universidad de Huelva, el Segundo Encuentro Transnacional, del proyecto "European Lived Culture Connects" (EliCCon) cofundado por el programa Erasmus+ de la Unión Europea. Los integrantes fueron European Photoacademy ArtWebDesign de Alemania, ALVIT-Innovation and Education de la República Checa, Praxis Europe del Reino Unido e Inercia Digital S.L de España.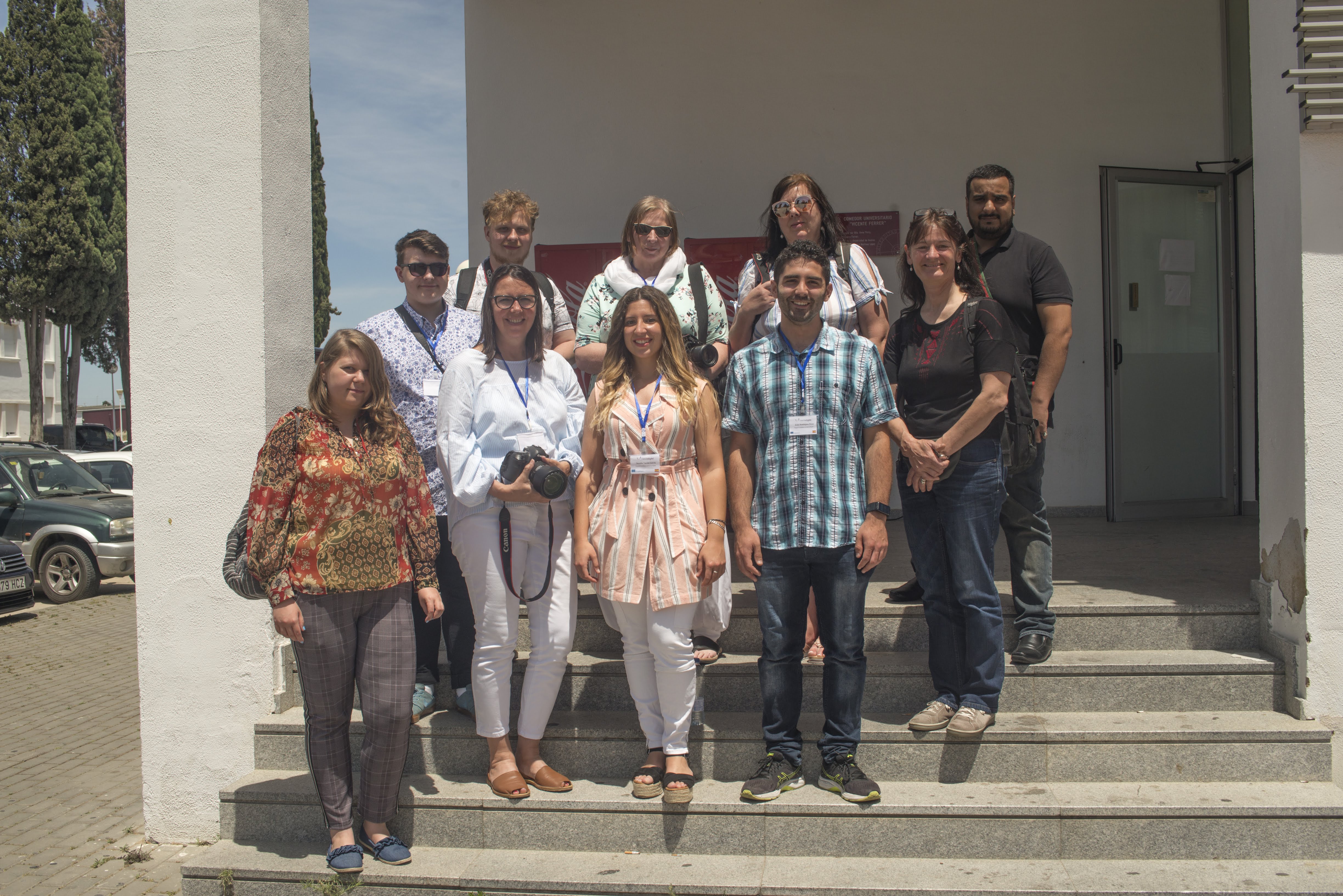 El encuentro sirvió como punto de contacto entre los socios, donde se habló del objetivo principal del proyecto, que es  que los ciudadanos europeos estén más sensibilizados con sus propios valores, tradiciones, usos y costumbres y con los de sus vecinos europeos, sin olvidarse de tener en cuenta a otras culturas no europeas que viven en Europa y el constante cambio de culturas a través del tiempo. El proyecto también busca reducir la xenofobia y los prejuicios, construir sinergias culturales  más significativas y hacer que las tradiciones y valores sean más visibles y más fácilmente transmitidos a las personas.
Esto se llevó a cabo con una exhibición de fotos de los países socios en el recibidor de la Universidad de Huelva,, cuya temática era la representación de la cultura de cada lugar, desde la Semana Santa y los trajes de gitana de España hasta las antiguas tradiciones de Polonia pasando por el  Saint Patrick´s day de Irlanda o las divertidas fiestas de Alemania. Posteriormente los socios presentaron sus diapositivas y se consumó un debate acerca del estado del proyecto y cuáles son los siguientes pasos a tomar.
El 25 de Mayo, como forma de cerrar la visita, los socios visitaron la famosa ciudad de Sevilla, en la que visitaron los puntos culturales más importantes de la misma y con más reconocimiento en el mundo.
La exposición de fotos se mantuvo en el hall de la universidad hasta el final del mes de mayo, y tuvo la suerte de coincidir con la "Sustainable Urban Race 2019" una competición de vehículos solares que organizaron el grupo de investigación de Control y Robótica de la Universidad de Huelva. Los vehículos son realizados por alumnos de la ESO, Bachillerato y FP.
Para más información acerca de anteriores o futuros eventos, por favor, no dude en consultar nuestra página web.
A multi-cultural end to EliCCon's Second Transnational Meeting in Spain
On 24th and 25th May 2019, the Second Transnational Meeting of the «European Lived Culture Connects (EliCCon)» project took place on the campus of the University of Huelva, , co-founded by the European Union's Erasmus + programme . The participants were our partners from European Photoacademy WebArtDesign from Germany, ALVIT-Innovation and Education from the Czech Republic Praxis Europe from the UK and Inercia Digital S.L from Spain.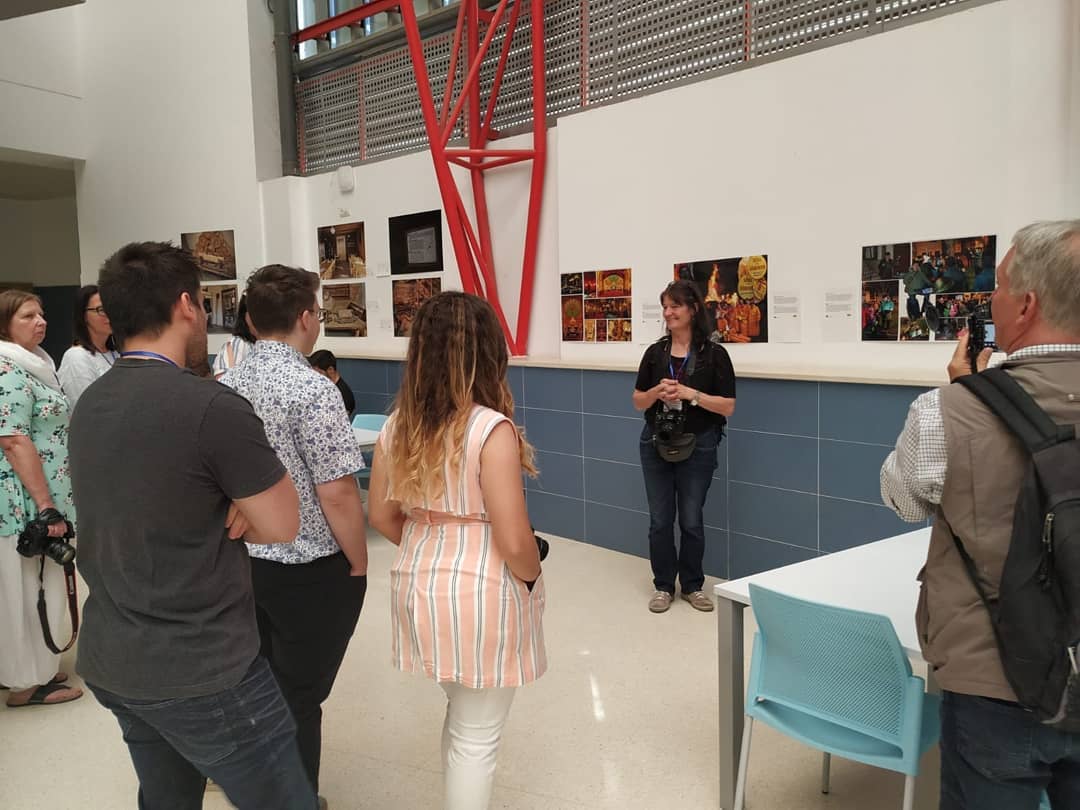 The meeting served as a point of contact between the partners, with the aim of making Europeans more aware of their own values, traditions and customs as well as  those of their European neighbours, without forgetting about other non-European cultures living in Europe and the constant change of cultures over time. The project aims to reduce xenophobia and help eliminate prejudices, build more significant cultural synergies in Europe and make the traditions and values a visible asset that can be transmitted to people.
 With the above objectives in mind, Inercia Digital as the hosting country, arranged  a photo exhibition in the hall of the university,, representing the culture of each participating country, from the Holy Week and flamenco costumes in Spain to the ancient traditions of Poland, Saint Patrick's Day in Ireland or Germany´s amusing festivities. Later the partners presented their slides and discussed the status of the project and the next steps to take.
On May 25, to wrap up  the visit, the guest partners were taken on a tour of Seville, where us as the hosts  showed them some of the city's most famous cultural and historical landmarks. .
For further information about past or future events, please check our website.
The following two tabs change content below.
Alexander Castaño
Estudiante de Administración y Dirección de Empresas y Finanzas y Contabilidad en la universidad de Huelva. De práticas en Inercia Digital.
Latest posts by Alexander Castaño (see all)